Click this image to go directly to the Amaco Velvets page.
Sale discounts will apply automatically in the shopping cart.
---
Local Potter Makes Forbes
Andrew Beckham Crafts Terra Cotta Amphorae
Each amphora takes two weeks to construct and three months to dry.

Photo credit: Cathy Huyghe
Andrew splits his attentions between growing grapes and making wine at his Beckham Estate Vineyard, making 75-gallon amphorae, and teaching ceramics full-time at Beaverton High. He builds his amphorae in six-inch sections, using coil-and-throw techniques, with Georgies' Vortex Red Sculptural clay.
To read the full article in Forbes, click:
Coming Soon to a Wine Near You
To follow Andrew's further adventures in wine and clay, click:
Beckham Estate Vineyard on Facebook
---
We recently had opportunity to work with Angela McGraw on making and installing outdoor art tiles at Silverton Elementary. It all came out so well that Angela shared photos with us! She and her students used our Wonder White Sculptural clay with Duncan Concepts underglazes and Duncan Pure Brilliance over the Concepts.
Click the small images for larger photos.
---
Dorothy Steele Shows in Portland Gallery
Show Will Run March 4th to April 14th
Dorothy focuses on shapes and textures from ferns, leaves, rocks, hand crocheted dollies, and other found objects. She presses these textures into slab of porcelain, creating organic pots that spring to lifein glazes of brilliant greens, blues, reds, and deep purple.
Opening Reception on Saturday, March 8th
from 2:00 to 4:00pm
Click these small images for larger versions.
---
---
Support a Local Artist
-- REALLY Local!

March 1 & 2, 10am - 5pm
(Saturday & Sunday)
Ceramics, Glass, Pottery & Sculpture by:

| | | |
| --- | --- | --- |
| Adrienne Stacey | Anna Vonrosenstiel | Betsy Gram |
| Bob Bugas | Braven K Smillie | Bridget Smith |
| Carol Opie | Cheri Holly | David Aulwes |
| Deborah Moen | Gretchen Lambert | Jeanne Henry |
| Michelle Gallagher | Nancie Mann | Rabun Thompson |
| Robin McIntosh | Terry Batte | Zelda Weisbart |
---



Click to visit the Oregon Ceramic Association website for more information.
---
Show Now Open at Euctectic Gallery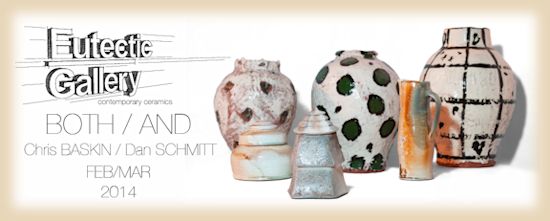 Selected works from Chris Baskin & Dan Schmitt
Click this image to visit Eutectic's website for more information.
---
Which of These is Not Like the Others?
(Yes, it's a trick question. They're all the same glaze.)
The difference is in the firing schedule. Changing the heat-up and cool-down timechanged the color results of our Ohata Red -- and other glazes too! Click the image to visit the How-To page for a full discussion of the how, the when, and the results.
---
Cone 6 Reduction?
Sure. We can do that.
Choose your clay. Choose your glaze.
Click any color sample for larger photos.
Cone 6 Oxidation
Cone 6 Reduction
Reduced on dark clay

GLW27


Emerald
Wood Ash

GLW28


Sapphire
Wood Ash

GLW34




Ohata Red

GLW45




Plum Black

PG607




Nassau Blue

PG616




Buckwheat