Welcome to
Georgies Ceramic & Clay Co.
~ Both our Portland and Eugene store will be closed on Thankgiving Day. We will
reopen on Friday and Saturday from 9am-5pm (our normal business hours).
Have a safe holiday and we want our customers to know that we are
truly thankful for each and every one of you! ~
---
On Sale this week only!
For the week of November 20th - November 25th ...
Our PG641 White Cloud Glaze is 50% off MSRP
plus Thomas Stuart Prodigy Wheels are on sale for $850.00
retail price is normally $1070.00 - saving you $220.00!



.. and ..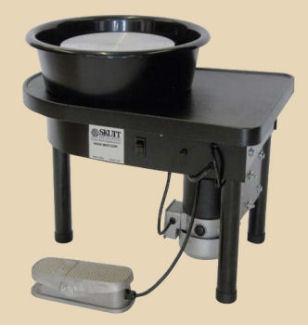 click on the image to go to that page
---
Our 2017 Catalog is here!

Click on the cover image to download pages or put one in your shopping cart for free with a purchase! You can also order just the catalog for $15 and then we will send you a $10 coupon toward your next purchase.
---
Here are some NEW items that you might enjoy...


Click on the images to go to those pages.




Mayco Fundamentals Underglazes ...
These vibrant and vivid colors fire to cone 06 but can go up to cone 6 and even some can go all the way to cone 10! Seven new colors were added to the line, so take a look and see all the things you can do with these versatile underglazes.

---

GR Wood Hump Molds ...
These wood molds are convenient, light, durable and well made. There are Ovals, Squares, Rectangles and Circles and you can find a variety of sizes within each shape. These would be perfect for slab work!

New shapes available!

---

Science for Potters ...
Linda Bloomfield presents the aspects of science which are useful to potters and provide a deeper understanding of ceramic materials and processes. Geology, chemistry and materials science all play a roll in the structure and composition of clay and glazes used in your work. Understanding these elements will provide greater control over and new insights into your craft.

---

Potters' Skin Butter ...
Potters' Skin Butter is a handcrafted natural vegan lotion for hardworking hands. It soaks in quickly and provides long-lasting non-greasy moisture for even the driest skin. The key ingredients are shea butter, aloe, macadamia nut oil and more. Scented only with pure peppermint, rosemary, and basil essential oils to uplift and relax mind, body, and spirit.

See them at the front counter!

---

Duncan cone 06 True Matte Glazes ...
Now 10 New colors for a total of 18 colors to choose from! A soft porcelain finish at a low-range temperature. These glazes are non-toxic and foodsafe and great to use for majolica.

---

XIEM has new tools!
Check out their new Tool Caddy which comes in green and orange. They are also introducing Sanding Sticks that come in Fine, Medium, and Coarse grades.
All contents related to Georgies' products copyright 2017. All rights reserved.
Georgies Ceramic & Clay Co. • 756 NE Lombard • Portland OR 97211 • 503.283.1353 • 800.999.CLAY
Georgies of Eugene • 1471 Railroad Blvd #9 • Eugene OR 97402 • 541.338.7654 • 866.234.CLAY
Fax numbers: Portland 503.283.1387 • Eugene 541.338.7565
Store Hours: Monday thru Saturday, 9:00a to 5:00p Pacific time • Business office hours 9a-5p, Monday thru Friday