THANK YOU!



...to the many clay artists who displayed their work.
...to all the OPA members who organized and set up Showcase 2013.
...to the potters & sculptors who demonstrated their techniques.
...to the musicians who shared their talents and energy on stage.
..and to EVERYONE who visited Ceramic Showcase!

We had a great time, and hope you did too.
Is it too early to say we're already
looking forward to next year?
. . . and . .
Did Showcase just leave you wanting MORE?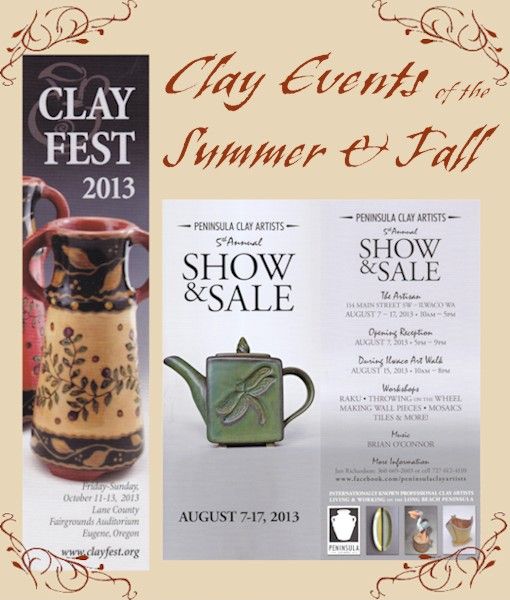 Click the artwork and postcards to visit the events' websites.
---
We Invite You

to participate in our monthly gallery exhibitions in 2013. We have several full month shows available, and we're also curating several themed shows. Please call or stop by if you're interested in displaying your work in the gallery at Georgies!

Click Terri Axness' "Free Range Orygun Rooster" to visit our gallery page for more information about our in-store and online galleries.
---
NEW 2013 Catalog Is Here!
| | |
| --- | --- |
| | Click the cover to find out how to order your copy! |
---
Don't Dream It: Make It!
Yes, you can, in Georgies' 8-week clay classes!
Click any thumbnail for a full-sized picture.
When you sign up for one of Georgies clay classes, your class fee includes instruction and demonstrations, the clay and glazes you'll use, firing for the pieces you make, and open studio practice time for the duration of your class when the store is open and another class is not in session. Our next classes begin on March 5th. Click the CLASSES button in the menu bar to see the full schedule.
---
How Did We Do That??
Click for project details about Sharon's firing schedule
for this reduction look in cone 6 electric firing.
---
Reach for the Stars!
Click these images to download full-page color flyers.
---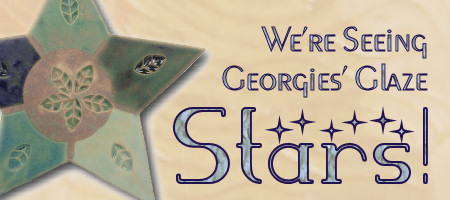 GLAZE STARS, that is! We've come up with a great new way to show just what you can do with our most popular glazes for Combo Mambo layering! Each star focuses on one central glaze, then shows combinations with different glazes around the five points. Click the star to visit the How-To page for technique sheets and more colors.
---
Which of these three is not like the others?
(Yes, it's a trick question. They're all the same glaze.)
The difference is in the firing schedule. Changing the heat-up and cool-down time changed the color results of our Ohata Red -- and other glazes too! Click the image to visit the How-To page for a full discussion of the how, the when, and the results.
---
Cone 6 Reduction?
Sure. We can do that.
Choose your clay. Choose your glaze.
Click any color sample for larger photos.
Cone 6 Oxidation
Cone 6 Reduction
Reduced on dark clay

GLW27


Emerald
Wood Ash

GLW28


Sapphire
Wood Ash

GLW34




Ohata Red

GLW45




Plum Black

PG607




Nassau Blue

PG616




Buckwheat