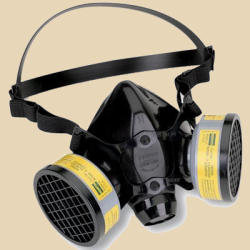 Please specify Large, Medium or Small when ordering.
MS7700 •
North Half-Mask Respirator
The North 7700 series half-mask air-purifying respirator is NIOSH/MSHA certified. Order cartridges and filters separately from the mask. The North 7700 is made of silicone for a flexible and comfortable fit to the face, with a cradle harness for the back of the head. Respirator masks should be carefully fitted for best results.