Decorative Stamps
Click here for: Letter & Number Stamps • Decorative Stamps
Rocker Stamps • Mayco Designer Stamps
Mayco Plaster Stamps

See also: Wooden Stamps & Texture Rollers by MKM
Stamp Blanks
Carve your own rubber stamps with any design you can imagine and layout! Double your value by using both sides, too.
---
These stamps are attachable and easy to snap together to create words or phrases. Never
worry about lining up letters again! Words or phrases can be lined up either horizontally or vertically to suit your creative needs. Great with ink, paint, clay, and underglazes. All sets
are 3/8" high x 1/4" wide.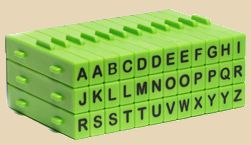 ALSS1U • $19.95




Upper Case Alphabet Stamps




(set of 36)

ALSS1L • $19.95




Lower Case Alphabet Stamps




(set of 36)

ALSS1XU • $8.95




Extra Upper Case Alphabet Stamps




(set of 12)

ALSS1XL • $8.95




Extra Lower Case Alphabet Stamps




(set of 12)

ALSS1N • $8.95




Number & Symbol Stamps




(set of 0-9, "&" and "!")
---
These are full sets of 26 letters or 10 numbers (sold separately). Individual stamps snap together to make words with even spacing between letters. There are seven sizes available for each set: see the drop-down menus below. (AA batteries included in photo only for scale and size of stamps.)

---



Flowers & Leaves Stamps




11 shapes from 1" to 1.5" each.





Chinese Character Stamps




Characters for Good Fortune, Happiness, Longevity,




Spirit, Love and Endurance. Six shapes approx. 1" each.




"Dingbats" Hand Stamps
These eight designs may well have been inspired by printers' symbols, called "dingbats," once used as spaceholders and decorative elements in typeset layouts. This set of 8 comes with instructions, one handle and 8 decorative stamps.
---
Dozens of design variations are both possible and easy with the Rocker Stamp designs. You can use one wide pattern, two narrow patterns side-by-side, or pair them with the geometric wooden stamps by MKM for even more possibilities. Try partial or overlaid pattern impressions, too. The unique design of the Rocker Stamp handle reduces the force necessary to make impressions in even the firmest of clays. Rocker handle is included with either set of stamps.
| | |
| --- | --- |
| | Deco Rocker Stamp Set 'A' |
| | Deco Rocker Stamp Set 'B' |
---
Mayco Stamps

Designer Rubber Stamps
Create designs that you can use with color products (glaze or underglaze) or in moist clay. Lightly apply colors to the stamp and then press against your piece, or press the stamp into clay for design work. OR cut the pattern from the clay and apply it as a raised surface -- an instant sprig!(Colored sample pictures show the effects that can be made with these stamps. Stamps do not produce these colors on their own, and colors are not included with stamp purchase. All stamps measure 2-1/8" high by 6" wide.
| | |
| --- | --- |
| Buy 1 - 5 at: | Buy 6+ at: |
| $5.05 ea | $4.04 ea |
Quantity discounts apply only to quantities of the same stamp
Click the small stamp images for larger pictures.