Georgies Portland Gallery
Click here to see what's happening in our Georgies of Eugene's Gallery too!
Are you interested in Showing Your (Made With Georgie's products)
Creations In Our Galleries? Click > Gallery Submission Form
---
Now showing in our Gallery ...
Stephanie Burton, Rabun Thompson & Empty Bowls - through August 15, 2018
click on images to see larger view
Stephanie has a teaching studio and teaches Handbuilding classes here at Georgies.
Rabun Thompson rents studio space from us and sells his work in wholesale and retail shows.
EmptyBowls is a charity event that is sponsored by the Oregon Potter's Association and Georgies
provides the space to collect the items and then we deliver to the charity location.
---
Previously in our Gallery ...
Night Sea by Emily Miller - April 1 through March 7, 2018
click on images to see larger view
Emily says "I have spent my life on the coast and all of my artwork has its roots in my love
of the sea. The sculptures in the 'Night Sea' exhibit explore how life is shaped by natural
cycles of contrast and change, from the deep ocean to outer space. I am a lifelong artist
with a passion for materials. My sculpture focuses on playful, interactive objects
with touchable, tactile surfaces." Come see all her creative forms.
In our gallery during December, 2017:
Georgies Employees
click on images to see larger view
Georgies welcomes all of our employees from both the Portland and Eugene stores in
our gallery this month. All items are for sale, so come see what we do and the
variety of gift possibilities that are available.
---
In our gallery during November, 2017:
Lonny Morgan
click on images to see larger view
Georgies welcomes Lonny Morgan and his amazing underwater creations to our Portland
gallery. Lonny's sculptures are made with Georgies low-fire Wonder White and have such
incredible detail! Stop by and take a peek at our Portland Gallery until November 30th or
check out his instagram for those who can't see these wonderful sculptures in person.
---
In our gallery during August, 2017:
Victoria Buchler
click on images to see larger view
Victoria starts out with throwing a smooth, more refined object before covering the
surface with stained procelain slip drips and underglaze brush strokes. In her current body of work,
process is communicatedthough decoration. Victoria conveys her ideas by saying, "I have always been
interested in clay as a means of capturing a moment in time. Marks of the maker's hand and tools can
help remind the viewer that another human being made their favorite mug or the bowl that they eat
cereal out of evey morning. Marks chosen are less about a pattern or image and more about the
process of making the mark and the material itself."
---
In our gallery during June, 2017:
Rafael Ordorica
For Rafael, "Pottery is a discipline in which your styles can change and evolve over time. Some days I feel like hand building, some days I feel like throwing, some days I want to use coils, and others I'll just pinch stuff out real quick.The point is this, I don't really know what I am going to be doing with the clay until I get my hands on it. My creative process embodies this very idea; the relation between uncertainty an creation."
---
In our gallery during March, 2017:
Kristy Lombard & Patrick Horsley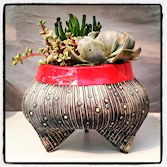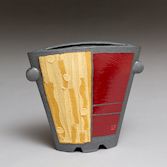 Kristy Lombard on the left and Patrick Horsley on the right. Come see their amazing work
in our gallery now through the end of March, 2017 during the NCECA show held here in Portland.
---
In our gallery from January through March, 2017:
Cathi Newlin Ceramics: Army of Monsters
We will have special opening reception on Saturday January 14th with finger food and coffee, so stop by and check us out!
I'm exploring new materials, new aesthetics and new and looser ways of expressing myself. Its time to stop being so literal - at least for now. The result is the Army of Monsters

---
Potters Council Gallery Show - October 19-22, 2016
Artwork is on display now through Saturday from the presenting artists: Jan McKeachie Johston & Randy Johnston, Matina Lantin, and Sarah Pike. Go to our facebook page for details or click on the link on our home page. All gallery items will be for sale on Saturday only.
We will have special store sales on Saturday only, so stop by and check us out!
---
Michael Gonzales - from October 2016
Come in to see dinosaur skulls created by the talented Michael Gonzales. Opening reception will be Saturday, August 13th, 2016 from 2-4pm in our Portland store. The show is up now and will be open until October 5th, 2016.
---
Marriah House -from May, 2016
These works are the collaborative efforts of husband and wife team Jeff and Donna Pinto. Together they create whimsical totems and garden sculptures using Georgies
G-Mix 6 clay and Georgies glazes.
Take a peek at some of their work: Marriah House Studio
---
Images from our "Spooky" Halloween show 2015
---
2015 Georgies' Student Show
Georgies Student Exhibition featuring ceramic works from our very own Portland studio students. Support your local aspiring artists and come see what we're making in the Georgies studio through September 29th.
---
Tamae Frame from January - March 2014
Click the small images to see larger, detailed photos.
Born in Japan, Tamae Frame is a sculptor who works with ceramics and her art represents her inner experiences. Much like how the dream world works, her creative process begins when she starts paying attention to the faint notions that dangle from within her consciousness; then, she composes those ideas into a sculptural form. She can express a variety of styles in order to convey her ever-changing inner world. Tamae takes advantage of the three-dimensional art form to impart her message; most of her work will need to be viewed from different angles in order to get their full meaning.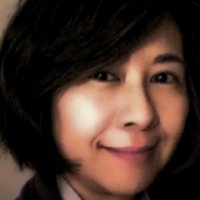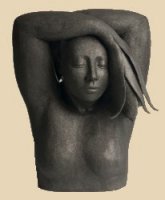 She [also] creates mystical figures whose bodies are connected with other organisms; they are one of the expressions of the many dimensions of her psyche.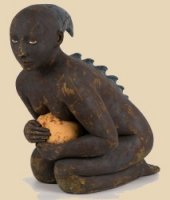 Tamae Frame uses Georgies clays, glazes, and Interactive Pigments in her work.
---
Georgies Employees Annual Show from 2014
Click the small images for larger, more detailed photos.
Cone 6 Pitcher • RJ Tonneson
Morgan Blackwind • Raku
Dana Bakke • Art Dolls
Sol Zimmerdahl • Pendants
Andrew Kail
Printed Pottery
Andrew Kail
Printed Pottery
Chris Schwartz
Gas-Fired Pottery
Chris Schwartz
Gas-Fired Pottery
Wil Labelle • ^6 Pottery
Wil Labelle • ^6 Pottery
Wil Labelle • ^6 Pottery
Merry Newcomer
Dinnerware
Sol Zimmerdahl
Sculpture
Maria Sampson
Ornaments
Maria Sampson
Ornaments
"Coooool!"
Maria Sampson
Magnets
Stephanie Burton
Handbuilt Pottery
Stephanie Burton
Handbuilt Pottery
Pamela Beach
Handbuilt Pottery