Wheel-Mounted Trimming Tools
Click here for: Giffin Parts • Giffin Lid Calipers • Bailey Quick-Trim
The Giffin Grip
The Giffin Grip has proven its usefulness thousands of times in studios across the country and around the world. It has become an all-but-essential tool for production work of any size or kind on the wheel.

The Giffin Grip is a recentering, holding and trimming tool for leatherhard or bisque ware. After an initial one-time adjustment, the Giffin Grip snaps on and off your wheelhead easily. Three arms position your pot in the center, and you're ready to work. The complete package comes with everything you see here, including:
Basic sliders for plates, bowls and lids.
2" arms for mugs, teacups and small casseroles
3" arms for larger mugs
4" arms for small bottles, pitchers and jars
5" arms for medium bottles and pitchers
6" arms for taller bottles, pitchers and larger vases
Wide sliders expand the usable diameter to 14 inches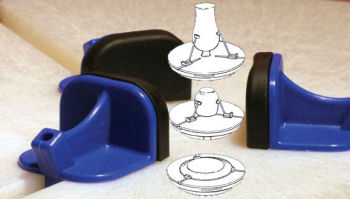 Sometimes you can improve even on a classic, and the designers at Giffin Tec have done just that. With the release of Model 10 they've upgraded the materials and tweaked the design of several key parts, like the basic sliders shown at left, now made with a distinctive blue plastic. Looks aside, the new sliders are much taller and will get a little closer. The pads will last longer, and the "feel" of the whole device is just a bit more precise. You can upgrade older Giffin Grips to the Model 10 standard with the parts kit below.
---
BB3 • $19.95




Bottom Brackets

(Set of 3)




---
BBS3 • $29.95




Basic Sliders

(Set of 3)




---
BWS3 • $29.95




Wide Sliders

(Set of 3)




---
GFP3 • $2.95




Slider Foam Pads

(Set of 3)




---
GFR15W15 • $49.95




Rods & Hands

(Set of 15 each)




---
RH23 • $14.95




2" Rods with Molded Hands (3)





RH33 • $14.95




3" Rods with Molded Hands (3)





RH43 • $14.95




4" Rods with Molded Hands (3)





RH53 • $14.95




5" Rods with Molded Hands (3)





RH63 • $14.95




6" Rods with Molded Hands (3)




---
Giffin Lid-Master Calipers
Make one measurement and you have its opposite immediately. Does the work of two standard calipers with greater speed, ease, and accuracy.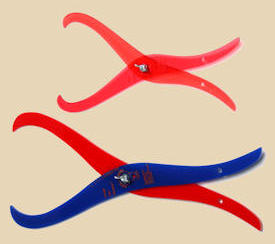 ---
The QT2: Bailey's Trimming System
More and more potters are creating organically shaped pots, with altered or multi-sided forms. With the Bailey QT2, it's easy and fast to trim them. Unlike other centering devices, the QT2 will accept virtually ANY shape or form. It takes only 7 seconds to secure a piece for trimming!

The QT2 fits all wheelheads with either 9" or 10" bat pin spacing. The outer diameter of the standard* QT2 (in stock at Georgies) is 15-1/2 inches. It can secure forms with diameters up to 11-3/4", using the four 1" holders with dense foam and vinyl covers.
The Bailey Quick-Trim II has many advantages:
FOUR holders (not three) for more flexibility when securing pottery forms
Fast independent adjustment of each holder against the exterior shape.
Superior holding power by applying "equalized" holder pressure inward from opposite sides of the pot.
Each QT2 can be used in either a clockwise or counter-clockwise direction.
Fast mounting and dismounting of the QT2 on any wheel head with the same bat pin centers.
Holds virtually any shape, whether symmetrical, multi-sided, or asymmetrical.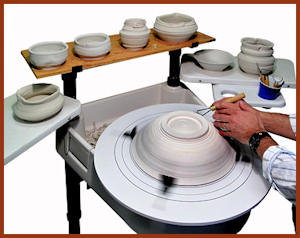 *Call or email for information about other sizes, available by special order.