Georgies Glaze Distributors
Canadian Distributors are listed at the bottom of the page.
For USA distributors, click your state to find your local distributor,
or click the state code in the list below:
click MAP for a PDF of this map for your reference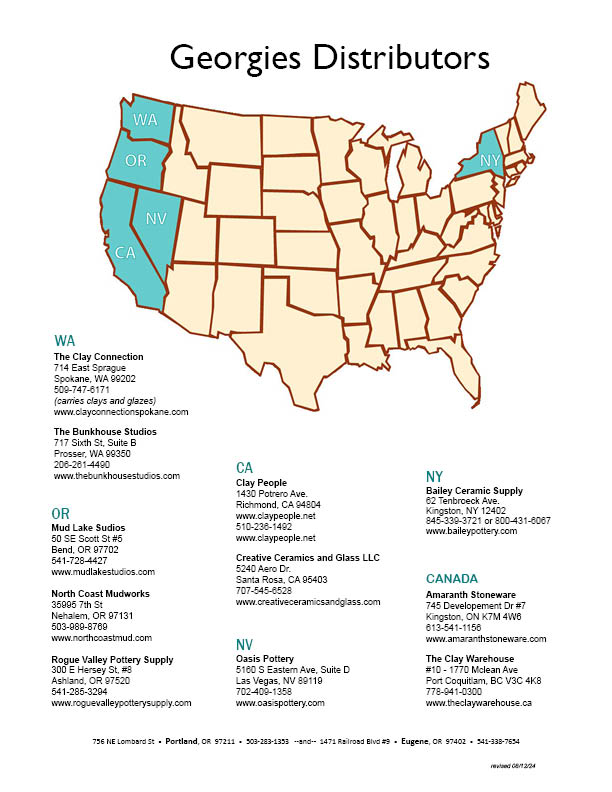 Check with your local distributor in...
CA
(California)

Clay People
1430 Potrero Ave
Richmond, CA 94804
510.236.1492 or 888.236.1492
www.claypeople.net

ID
(Idaho)

Puffy Mondaes Sustainable Arts
200 12th Ave South
Nampa, ID 83651
208.407.3359
www.puffymondaes.com

MS
(Mississippi)

Coastal Ceramic Supply & Studio
3418 Bienville Blvd
Ocean Springs, MS 39564
228-327-4920
coastalceramicsupply@gmail.com

NC
(North Carolina)

Fat Cat Pottery Inc
419-C Raleigh St
Wilmington, NC 28412
910.395.2529 or 910.395.4684 (fax)
www.fatcatpottery.com

NY
(New York)

Bailey Ceramic Supply
62 Tenbroeck Ave
Kingston, NY 12402
845.339.3721 or 800.431.6067
www.baileypottery.com

The Potter's Wheel
12033 83rd Ave
Kew Gardens, NY 11415
718.441.6614
www.potterswheelny.com

OR
(Oregon)

Hey, that's us here at Georgies!

Southern Oregon Pottery Distributors
1134 Suncrest Rd
Talent, OR 97540
(carries Georgies clays and glazes)
541.535.1311
www.southernoregonclaydistributors.com

PA
(Pennsylvania)

The Ceramic Shop
3245 Amber St
Philadelphia, PA 19134
215.427.9665
www.theceramicshop.com

WA
(Washington)

The Clay Connection
714 East Sprague
Spokane, WA 99202
(carries Georgies clays and glazes)
509.747.6171
www.clayconnectionspokane.com
Canadian Distributors are available too!
AMARANTH STONEWARE
745 Development Dr, #7
Kingston, ON K7M 4W6
(carries Georgies glazes)
800-465-5444
www.AmaranthStoneware.ca
The Clay Warehouse
#10 - 1770 Mclean Ave
Port Coquitlam, BC V3C 4K8
(carries Georgies clays and glazes)
778-941-0300
email: theclaywarehouse@outlook.com www.theclaywarehouse.ca