Cone 6 Stoneware Bisque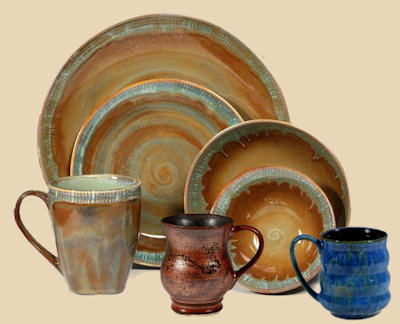 BRING THE ADVENTURE OF CONE 6 glazing and firing to your kiln with Mayco's new cone 6 stoneware bisque. The sample pieces shown above were glazed with Mayco cone 6 glazes. You can also use cone 6 glazes from Georgies, Coyote, Laguna, Duncan, Amaco or Spectrum on those pieces.
Made in the USA by Originals Pottery.
You should anticipate ABOUT 10% SHRINKAGE in glaze firing to cone 6.
Dry foot your work for cone 6 glaze firing. "Dry Footing" means do not apply glazes to the bottom 1/4" of each piece, or to the bottom of the piece. This is to prevent attachment to kiln shelves in event of glaze runs or drips.
DO NOT USE STILTS in cone 6 firing.
DO NOT FIRE LOWFIRE CLAYS or SLIPS in the same glaze firing with cone 6 stoneware. Lowfire clays will melt at cone 6 temperatures, which means you'll need expensive repairs to your kiln.
ALWAYS DOUBLE-CHECK THE GLAZE LABELS to make sure you're using the right glaze for the glaze-firing temperature you want.
You can use cone 6 stoneware and cone 06 lowfire glazes in the same glaze firing to cone 6. You should expect some color changes for the cone 06 lowfire glazes. Lighter colors like pink and yellow may burn out completely, while darker colors will tend to be even darker than you expected.
You cannot use cone 6 stoneware glazes in a cone 06 lowfire glaze firing. The heat at cone 06 is not sufficient to melt and mature the cone 6 glazes.