MKM Rollers, Stamps & Ribs
Click headers for your choice of styles, sizes & shapes:
Texture Rollers
Stamps, Ribs, Paddles & Disks
All Finger Rollers are 5.5cm (or 2 inches) in diameter, with 8mm design strips.
-- Hover your mouse/cursor over the roller images to see sample patterns --
FR01 • $11.95
Dots Finger Roller

FR02 • $11.95
Diamonds Finger Roller

FR03 • $11.95
Triangles Finger Roller

FR04 • $11.95
Fancy Zig-Zag Finger Roller

FR05 • $11.95
Rope Finger Roller

FR06 • $11.95
Daisy Finger Roller

FR07 • $11.95
Twine Finger Roller

FR08 • $11.95
Stars Finger Roller

FR09 • $11.95
Braid Finger Roller

FR10 • $11.95
Vine Finger Roller

FR11 • $11.95
Key Square Finger Roller

FR12 • $11.95
Key Spiral Finger Roller

FR13 • $11.95
Waves Finger Roller

FR14 • $11.95
Zip-Zap Finger Roller

FR15 • $11.95
African Weave Finger Roller

FR16 • $11.95
Arrowheads Finger Roller

FR17 • $11.95
Bar Code Lines Finger Roller

FR18 • $11.95
Double V Finger Roller

FR19 • $11.95
Zig Dots Finger Roller

FR20 • $11.95
Star Flow Finger Roller
---
W1 • $6.95
3.6" L x 1.9" W
Best for the interiors of small or medium bowls

W2 • $5.95
2.8" L x 1.8" W
An interior rib for small vases and jars

W2B • $6.95
4.5" L x 2.8 " W
General use rib for medium bowl interiors

W2C • $11.95
6.9" L x 4.6" W
For large bowl interiors and medium plates

W3A • $5.95
3.1" L x 1.3" W
For small bowl interiors or wall compression

W4 • $6.95
4.7" L x 1.9" W
For small bowl interiors, external wall compression, and details

W5A • $6.95
2.9" L x 2 " W
Four different corner shapes. Works on the MKM throwing sticks, too!

W6 • $6.95
4.3" L x 1.9" W
Great for vertical wall compression

W8A • $6.95
4.1" L x 2.4" W
Works well inside large bowls with steep walls and flatter curved bottoms

W8B • $11.95
6.8" L x 2.9" W
Great inside large bowls with steep walls and flatter curved bottoms

W9 • $6.95
5" L x 2" W
Useful for smoothing the marks left by trimming tools

W11 • $11.95
6.3" L x 2.2" W
For compressing clay and removing slip

W12B • $11.95
6" L x 3.9" W
General purpose bowl & plate rib

W20 • $12.95
8.1" L x 2.2" W
General rib for large gently curved bowls, platters and vases. Or use it as a small paddle!

W21A • $12.95
9" L x 1.9 " W
Designed for working with flanged plates and bowls

W22A • $16.95
12.6" L x 2.2" W
For setting the curve on plates or making exterior linear marks
---
NO HANDLE needed with these rollers: roll them with your hand!
Roll up or around the wall of a thrown pot, or anywhere on a slab.
Each roller measure 3" long x 0.4" diameter (7.5cm x 1cm).
Click each roller for a larger picture with pattern sample in clay.
Hand Rollers - 4" x 5/8" (10cm x 1.5cm)
Big Hand Rollers 4.75" x 1" (12cm x 2.5cm)
BHR85 • $19.95
Beautiful Symmetry -
Fine Line Big Hand Roller

---
Mini Rollers use the "R2" handle (not pictured, yet).
Small, Medium and Large rollers fit into the "R1" handle: you can easily and quickly change over to a new design or a new width. Handle is sold separately, and does not include a roller.
All rollers are made with a fine-grained hard wood and treated with teng oil for durability.
Rolling design face is 0.8" across (2cm).
Mini Rollers
RH2 • $12.95
Mini Texture Roller Handle
Use with 5mm & 2cm wide rollers
Mini Rollers 0.8" (2cm wide)
RH2 • $12.95
Mini Texture Roller Handle
(use with 5mm & 2cm wide rollers)
Small Rollers 0.6" (1.5cm wide)
RH1 • $12.95
Texture Roller Handle
(Interchangeable with all MKM texture
1.5, 3 or 6 cm wide.)
Medium Rollers 1.2" (3cm wide)
RH1 • $12.95
Texture Roller Handle
(Interchangeable with all MKM texture
1.5, 3 or 6 cm wide)
Large Rollers 2.4" (6cm wide)
RH1 • $12.95
Texture Roller Handle
(Interchangeable with all MKM texture
1.5, 3 or 6 cm wide.)
---
Small Wood Stamps 0.6" (1.5 cm)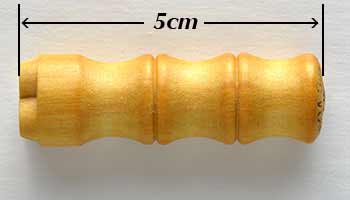 ---
Medium Wood Stamps 1" (2.5 cm)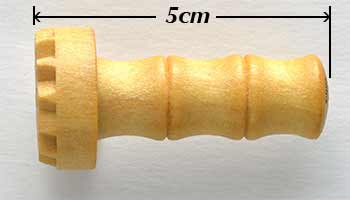 ---
Large Wood Stamps 1.5" (4 cm)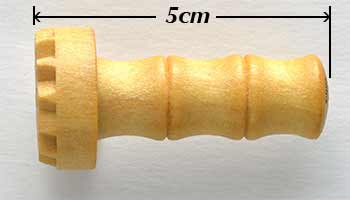 ---
| | |
| --- | --- |
| | The Deco Disk is one those revolutionary, simple ideas we wish we'd thought of first. It accomodates any round piece up to 15 inches in diameter, and the rays are your guide for evenly spacing 3 to 10 axes of decorative or glaze work around the piece. This will quickly become one of your favorite studio tools. |