Slipcasting & Mending Supplies
Click here for:
Rubber Bands • Banding Straps • Menders • Hanson Mixers
American-made heavy duty red rubber bands, 5/8" wide, packaged in boxes of one pound each. Piece count per bag varies with weight of individual bands by size. The last digit of the item number matches the rubber band's diameter in inches.

$7.00 per pound
RB104
4" bands

RB105
5" bands

RB106
6" bands

RB107
7" bands

RB108
8" bands

RB109
9" bands
---
Rubber bands are great for small or medium-sized molds (up to 10" on each side) that you use regularly, but rubber bands will oxidize and weaken over time. That can mean the bands aren't strong enough to properly hold together the parts of the molds. That can have dire consequences for your molds. The parts may warp away from each other, or the weakened bands may give way next time you pick up or move the mold. For all their size and weight, plaster molds are surprisingly fragile! Even without those problems, weakened bands may allow slip to leak between the mold parts. With large molds, that can lead to a real mess. For storing molds and for pouring large molds, we recommend nylon banding straps.
How to Use Banding Straps

| | |
| --- | --- |
| Fold the U-shaped buckle under the tongue plate (the part that has three horizontal grooves) | |
| Wrap the strap around the mold. Make sure it isn't twisted. End of strap goes through the BACK slot. | |
| Bend the strap forward OVER the crossbar between the two slots and DOWN through front slot. | |
| Adjust the position of the strap around the mold. You need a couple inches of slack around the mold. If it's too tight you may crush the mold in the next step! | |
| Flip the tongue plate forward to tighten the strap. It should not take major force to tighten and buckle the strap. | |
(Download a PDF copy of these instructions for future reference here)
UBS3
Yellow, 3ft

Buy 1 - 9 ...
10+ ...
$3.50

ea

$2.63

ea

UBS4
Green, 4ft

Buy 1 - 9 ...
10+ ...
$3.80

ea

$2.85

ea

UBS5
Blue, 5ft

Buy 1 - 9 ...
10+ ...
$4.10

ea

$3.083

ea

UBS6
Orange, 6ft

Buy 1 - 9 ...
10+ ...
$4.65

ea

$3.49

ea

UBS8
Pink, 8ft

Buy 1 - 9 ...
10+ ...
$6.25

ea

$4.70

ea

Quantity discounts apply only on multiples of the same individual item
---
click Hanson Mixers to see the Hanson mixers ...
---
Menders for Greenware or Bisque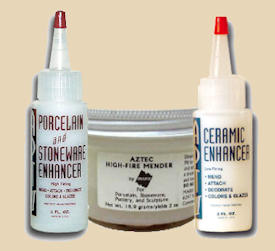 Just for those "oops!" moments: these menders work best when mixed into a slurry with a small amount of the clay used in the piece you want to fix.
HFM • 2oz jar - $9.95
Marx High-Fire Magic Mender
For clays that fire at cone 4 or higher

MAGMD • 4oz jar - $10.50
Marx Low-Fire Magic Mender
For clays that fire at cone 04 - 06

MS675 • 2oz bottle - $7.99
Apt II Ceramic Enhancer
For low-fired slip-cast clays

MS677 • 2oz bottle - $8.99
Apt II Porcelain Enhancer
For cone 6 slipcast porcelain

MS678 • 2oz bottle - $7.99
Apt II Mend-a-Mold
For mending broken plaster molds

28897B • 4oz jar - $23.25
Bisque Fix-It
up to cone 10
SY545 • 4oz jar
Patch-a-Tach Mender

Buy 1 - 5 ...
6 - 11 ...
12+ ...
$3.75

ea

$2.82

ea

$2.25

ea