Wheel Bats
Click items
at right to
see ...
Production bats are simple things, really, no more than circles of wood or plastic that sit between your wheel head and your clay. They're simple but necessary: bats enable you to quickly and easily remove your work from the wheel. Put a fresh bat on your wheel, and you're ready to throw again. These bats all have holes for batpins spaced 10 inches apart, which is standard for all new wheels. Please let us know if your wheel has different spacing for the batpins.
| | |
| --- | --- |
| Studio Pro now has a great trimming accessory! Your pots are gently held in place by the foam for trimming your work. You can pick up and adjust your piece as often as needed during trimming. The bullseye rings on the bats will help guide you in keeping your work centered. The foam offers a protected surface to help avoid damage to your rims and to hold uneven work. Use the 3/4" thick foam for larger/heavier pieces and 1/4" thick foam for smaller/lighter pieces. | |
TBT14 • $30.00
Trimbat Foam Bat 14" w x ¼" thin foam

TB14 • $37.00
Trimbat Foam Bat 14" w x ¾" thick foam

TBT18 • $40.00
Trimbat Foam Bat 18" w x ¼" thin foam

TB18 • $50.00
Trimbat Foam Bat 18" w x ¾" thick foam
Xiem Self-Adhesive Foam Trimming Bat Pad
Xiem Studio Tools innovative peel-and-stick self-adhesive foam trimming bat is ideal for trimming large bowls and plates without the use of a coil to attach the piece to the wheel head. The foam bat sticks firmly to all types of 14 wood and plastic bats.

Once applied to the bat, its surface grips the rims of leather hard pieces and holds them in place for trimming. Items can be easily centered using the concentric rings.
FB • $10.95
Foam Trimming Bat Pad
Xiem Bat Lifter
| | |
| --- | --- |
| | Save yourself from broken tools, torn fingernails, and general aggravation with the Bat Lifter. Just slide the tip between the bat and wheelhead to easily lever and remove any sticky bat or heavy wheelthrown work. |
Batmates are the perfect solution to problems with warped bats or bats that jitter on your wheel. Soak your Batmate in water, wring out the excess. Lay the Batmate on your wheelhead, and put the bat on top. Voila! Rinse off any clay buildup after use, let dry, and store it clean (no clay). If the Batmate becomes stiff, soak it in water again and it will return to its original shape. Available in 12" and 14" sizes.
WARNING! Rinse new Batmate under warm tap water before first use, to reduce color bleed.
BM12 • $9.95
Batmate Gripper 12" wide

BM14 • $10.95
Batmate Gripper 14"
---
BP • $4.00 per pair
Bat Pins
for Brent and Modern Shimpo wheels
---



Bats in photo are not
included in price
**Special Order ONLY**

click BRENT WHEELS to see
and shop for these wheels

Improved design!

Welded support rails offer added strength and stability and side frames include holes to adjust the top two rails for holding larger diameter bats (see inset photos above).

This strong steel cart glides on 4" diameter rubber swivel casters and is a great place to store your unused bats. Once in place the casters can be locked to prevent rolling. It holds up to 90 - 14" bats, with adjustable shelves for almost any size bat and a top shelf that can be used on a ware cart. And to keep them securely in place, the Batmobile includes the Brent BatBrace (see photo). Acting like a "bookend", the BatBrace keeps up to 50 12" or 14" Plasti-bats from sliding. BatBrace also sold individually if more than one is desired, click here for more information.

Shipping weight 60 lbs (UPS available)
Dimensions 42"w by 35"h by 14"d
RBBML • $580.00
Brent Bat-Mobile
---
Bats
Creative Industries Plastic Bats



Creative Industries' trademarked "Easy Lift Rim" makes it easy to remove the bat from the wheelhead in one smooth motion without disturbing, rocking or tipping your new work. These injection-molded plastic bats are easy to maintain and long-lasting in use, while holding their original shape and size. As an additional feature, their unique "bat ribs" easily grab onto clay rings for throwing on wheel heads without bat pins.

These popular, smaller square bats save room on your studio shelves or on your ware carts) so you can use the space more efficiently to store more pieces. They offer the same features as the larger Creative Industries bats.
CI7
7½" square

Buy 1-5 ...

6-11 ...

12+ ...

$12.00

ea

$10.20

ea

$9.00

ea

CI12
12" round

Buy 1-5 ...

6-11 ...

12+ ...

$17.00

ea

$14.45

ea

$12.75

ea

CI14
14" round

Buy 1-5 ...

6-11 ...

12+ ...

$19.00

ea

$16.15

ea

$14.25

ea

Quantity discounts apply when ordering multiples of the same size bat
NorthStar Super Star Blue Bats



NorthStar has brought back the
Super Star Bats!

HDPE (Blue) Plastic Bats are 3/8 inch thick, matte finish on both sides to hold and release clay more easily. Standard drill is two holes 10 inch center-to-center to fit Brent, new Pacificia, Soldner and many others.

• Same orange peel texture for clay adhesion
• Same non-brittle HDPE
• Convenient sizes for easy on and off
• New 3/8" thickness for bigger pots & no warping
RBP13 • $24.00
NorthStar Plastic Bat - 13 x 3/8"

RBP15 • $31.00
NorthStar Plastic Bat - 15 x 3/8"
---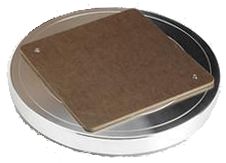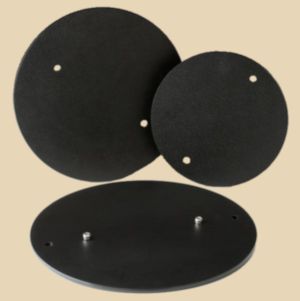 | | | |
| --- | --- | --- |
| Hardboard - Thin 1/4" | Medex - Wood | Black Plastic |
Hardboard 4" Square Thin Wareboard are made from the finest quality tempered hardboard available in a 1/4" thickness, perfect for production of small wares.
Medex bats offer greater rigidity then our tempered hardboard bats but with similar absorbency. Unlike it's Masonite predecessor, this bat has no added formaldehyde and are slightly absorbent for good clay adhesion and bottom drying. Compact and easy to store and will last many years if cared for properly. The old Masonite bats were unhealthy and are no longer available. Hardboard, Medex and Plastic bats are a better alternative! These versatile Medex bats are an excellent choice for all kinds of studio environments.
Black plastic bats are easy to care for, extremely versatile, and a great choice for schools and art centers where pots are often left on bats for long periods of time. These bats are textured on both sides so clay adheres equally well on either surface: a true "two-sided" bat.
8/15/22 PLEASE NOTE: the manufacturer is not able to get the plastic needed to make the RBP9-RBP22 bats until mid-September. Your order will be delayed until they come in. Please contact us if you have any questions.
Quantity discounts apply when ordering multiples of the same size bat

Hardboard

RBT9 (square)
4" x 4" x 1/4"

Buy 1-5 ...

6-11 ...

12+ ...

$7.35

ea

$6.25

ea

$5.90

ea

Medex

RBT12 (thin)
12" x 1/4"

Buy 1-5 ...

6-11 ...

12+ ...

$9.00

ea

$7.65

ea

$7.20

ea

RBT14 (thin)
14" x 1/4"

Buy 1-5 ...

6-11 ...

12+ ...

$12.30

ea

$10.46

ea

$9.84

ea

RB12
12" x 3/8"

Buy 1-5 ...

6-11 ...

12+ ...

$10.50

ea

$8.95

ea

$8.40

ea

RB14
14" x 3/8"

Buy 1-5 ...

6-11 ...

12+ ...

$12.20

ea

$10.40

ea

$9.75

ea

RB16
16" x 3/8"

Buy 1-5 ...

6-11 ...

12+ ...

$14.75

ea

$12.55

ea

$11.80

ea

RB18
18" x 3/8"

Buy 1-5 ...

6-11 ...

12+ ...

$19.50

ea

$16.60

ea

$15.60

ea

RB22
22" x 3/8"

Buy 1-5 ...

6-11 ...

12+ ...

$28.75

ea

$24.45

ea

$23.00

ea

- Please note: color may vary on bats below -

RBP9
9" x 1/4"

Buy 1-5 ...

6-11 ...

12+ ...

$12.50

ea

$11.00

ea

$10.00

ea

RBP12
12" x 1/4"

Buy 1-5 ...

6-11 ...

12+ ...

$16.70

ea

$14.20

ea

$13.36

ea

RBP14
14" x 1/4"

Buy 1-5 ...

6-11 ...

12+ ...

$24.50

ea

$20.83

ea

$19.60

ea

RBP16
16" x 1/4"

RBP18
18" x 1/4"

RBP22
22" x 3/8"
---
Northstar Bat System
NorthStar's Universal Bat System saves a great amount of shelf space when making pieces with small footprints. The outer bat is Medex, 1/2" thick and 13" wide, and the inserts are 1/4" Duron which sit 1/8" above the outer bat. The inserts measure 5-1/2" square. Inserts remove easily from the outer bat, yet fit snugly enough that the cavity stays clean.

When you finish each piece, lift out the bat insert, plug in the next one, and you're ready to continue your production work. Bat inserts are sold separately as a package of 12 listed below. System includes one 13" Medex bat and nine 5.5" Duron bats.
NS860 • $72.99
NorthStar Universal Bat System
set has one 13" bat & nine 5½" square inserts

NS863 • $32.99
NorthStar Universal Inserts
set of 12 inserts
StudioPro SpaceSaver Bat System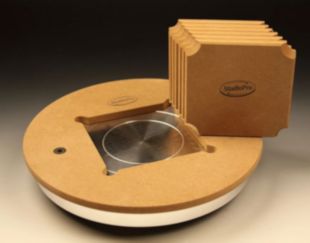 Made from 1/2" exterior grade MDF
Has "finger lifts" and rounded edges for easier removal, smoothness and longer wear
Excellent bottom drying
Rubber grommets spaced 10" on center for standard wheel pins
The SpaceSaver is a convenient system for making smaller pots and maximizing table space in your studio. The entire system is fully compatible with the now unavailable Wonderbat. The 14" adapter bat needs the 6" insert bats which are sold separately. Both are made from a 1/2" exterior grade MDF which provides excellent bottom drying and rigidity. The adapter bat mounts on standard wheel-head pins with rubber "through hole" grommets making a true two-sided bat.
SSB • $43.00
Adapter Bat only - 14"

SSI • $5.30 each
Adapter inserts - 6" square
---
| | |
| --- | --- |
| | Hydrobats are made of gypsum cement ten times stronger than conventional plaster, but with a similar water absorption rate. Two hard rubber grommets in the bottom assure snug fits on wheels with standard (10") pin spacing. Larger and smaller sizes of Hydrobats are available: please call or email us for more information. |
HB6 • $11.00
Hydrobat Mini - 6.25"w

HB8.5 • $14.00
Hydrobat - 8.5"w

HB10 • $17.20
Hydrobat - 10"w

HB12.5 • $23.70
Hydrobat - 12.5"w

HB14 • $26.70
Hydrobat - 14"w

HB16 • $35.00
Hydrobat - 16"w

HB18 • $46.50
Hydrobat - 18"w

HB20 • $62.00
Hydrobat - 20"w
| | |
| --- | --- |
| | Hydro-Bat Adapter is designed to use 8.5" and 10" Hydrobats that are too small to fit on regular wheelhead bat pins that are spaced 10" apart. The adapter is made of a sturdy polyethelene plastic with drilled holes to fit on standard wheel heads. Great for making multiples of small items like cups and bowls. |
HBA • $40.00
Hydrobat Adapter
Plaster Drying/Wedging Boards are an important part of the process if you reclaim clay from slurry, scraps, or "oops" moments on the wheel. You can also use them to wedge your clay and dry your work with less chance of cracking at the bases.

With reasonable care, these drying boards can last for several years of use. Both boards give you lots of working room and are sized to fit most projects.

G099 • $45.00 - 17" x 14" x 2.5"
Plaster Drying/Wedging Board

G0100 • $125.00 - 21" x 27" x 3"
Plaster Drying/Wedging Board