Classes & Demos in Eugene
These classes are in our Eugene store
Call 541.338.7654 to sign up: no online class registration.
Surface Decoration & cone 6 Glazing
Surface Decoration I is a four-week class that will focus on surface decoration on greenware forms made from Georgies G-Mix 6, Trail Mix Chocolate and Trillium clay bodies. You will use a variety of techniques to create texture on your forms and work with slip, sgraffito, Mishima, stencils and monoprinting.
Surface Decoration II will focus on the differences between glazes & underglazes, firing temperatures, brushing methods, using wax resist, and glaze combinations during the four week class. You will be given 40 (6" x 6") bisque tiles to practice the lessons learned in this class as well as whatever you made from the first class.
Both classes include instruction, materials, firing, and studio time to practice what you have learned.
Click on the flyer above for a PDF version of the class schedule so you can print a copy if needed.

February 2 - February 23
Maria S.
SEE456
$150

4




seats open
| | |
| --- | --- |
| | Click here to see "The Fine Print" for clay classes at Georgies. |
April 22nd : Annie Chrietzberg - $150.00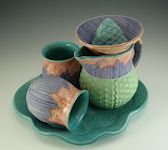 This is a Hands-on class! You will have the opportunity to watch Annie demnstrate AND then make a piece with her assistance. Feel free to bring your favorite texture tools and handbuilding tools. Don't have any? Well, we do! Check out our wide selection to make your piece a textural masterpiece. Call the Eugene store at 541-338-7654 to sign up.
SEE219 ~ 10-4 pm .. 4 spots available .. Click here for the FLYER
May 13th : Mold Making with Brett Binford - $150.00

Learn the art of Mold Making with a Master! Brett will show you how to make a 2-part mold and assist you throughout the process. You will have the chance to ask questions from someone who makes a living working making molds. Please bring 2-3 simple objects and Brett will help you decided which one is best to use for this class. You will leave the class with your mold ready to start slipcasting.
SEE164 ~ 10-4 pm ..... 3 spots available .... Click here for a class flyer FLYER
---
THE FINE PRINT FOR EIGHT-WEEK CLAY CLASSES:
At the time of registration for our clay classes we request a $25 deposit and a credit card number to hold your reservation. The $25 deposit will not be refunded if you cancel your registration, but will be applied when you pay the rest of your class fee ($25 + $225 = $250).

You will get a registration confirmation in the mail. We normally bill your class fee to your credit card number two days before the first classsession. If you choose to pay by cash or check, please arrive before5:00 pm on the first class day so we can complete your invoice. Call oremail us as soon as possible if you have to cancel your registration.We have waiting lists for many of our classes, and your early callallows someone else to attend.

The fee for our clay classes includes Georgies classroom clay, use of Georgies glazes on your work, studio time to practice between class sessions (when there is not another class using the studio space), and firing your classroom work. Other clays and glazes are not included in the class fee. You'll have to purchase those on your own if you wish to use them. Cone 06 lowfire clays are strictly not allowed in our classroom area.