Classes & Demos in Eugene
These classes are in our Eugene store
Call 541.338.7654 to sign up: no online class registration.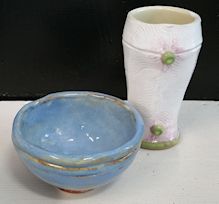 Click on the picture above for a PDF version to print a copy for your records
Hand-building is often the best place to start your clay experience. Hand building explores many popular methods of clay forming including slab building, pinch pots, and building with coils. By touching and forming clay with these simple unaided methods, you learn the fundamentals of joining clay into cohesive forms. Our hand-building class is open to beginning and continuing students. When we present a specific technique, such as 'soft slab' work, we introduce it with a specific project that teaches the skills needed for that type of work. As you begin to develop your skills, you are able to bring your ideas to fruition. Basic glazing skills will be explored.
Both classes include instruction, materials, firing, and studio time to practice what you have learned.
May 4 - June 22
Maria S.
SEE122
$250

5




seats open
Build a Garden Totem with Maria
Learn how to design, make and assemble a garden totem! We will be using Georgies' cone 6 Timberline Sculptural clay to make slabs, pinch pots, extrusions and handmade templates to build your totem pieces.

Your totem will be 40" high with a 10x10" steel base. Come prepared with ideas for a theme! You will want to have 3 to 5 major "focus" objects and several "filler" pieces such as hollow balls, tubes and spacers to connect the theme focus pieces.

The class fee of $300 includes clay, glazes (including our Interactive Pigments!), firing, and the totem stand (crafted by hand of welded steel). We have tools available in the classroom but feel free to bring your own as well as any favorite texture stamps or rollers you may have.

Preregistration is required to hold a spot. The class is half-full already, so call soon to reserve your opportunity!
Click on the picture above for a PDF version to print a copy for your records
June 29 -
August 17
Maria S.
SEE123
$300

7




seats open
| | |
| --- | --- |
| | Click here to see "The Fine Print" for clay classes at Georgies. |
---
May 13th: Mold Making with Brett Binford - $150.00

Learn the art of Mold Making with a Master! Brett will show you how to make a 2-part mold and assist you throughout the process. You will have the chance to ask questions from someone who makes a living working making molds. Please bring 2-3 simple objects and Brett will help you decided which one is best to use for this class. You will leave the class with your mold ready to start slipcasting.
SEE164 ~ 10-4 pm ..
this class is now FULL (please call to be on the wait list) ....
Click here for a class flyer FLYER
---
May 27th & June 3rd: Table Top Totems - $75.00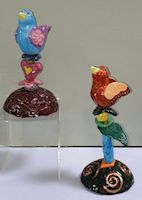 In this 2-day workshop you will be making a small Table Top Totem using Georgies Wonder White Clay body. During the first class you will be making your totem pieces. The second class will focus on glazing your pieces. The clay, glazes, hardware and firing are all included in the class fee.
SEE144 ~ 10-1 pm ... 6 spots available ... Click here for a class FLYER
---
August 5th, 12th & 19th: Mosaic Stepping Stones- $100.00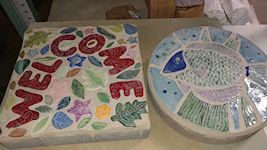 During this 3-day workshop, you will be creating your own cement stepping stone. The first two days will be used to make the parts to go into your design, On the third day of class you will attach your design elements to a cement stepping stone and then do the grout work at home. The class fee includes all of the materials needed to complete your outdoor garden art.
SEE145 ~ 10-Noon ... 6 spots available ... Click here for a class FLYER
---
Made with Clay Summer Fun Fridays
These classes are meant not only to answer the many questions we are asked on a daily basis, but to also provide the opportunity for you to try new tools or new techniques that we find intriguing. All classes are hands-on and are priced for a quick lesson or technique. All class fees are charged in full when you sign up and all fees are NON-REFUNDABLE. Pre-registration is required. Firing is NOT included in the class fees, unless otherwise noted. Fees include materials, instruction and a designated project. Please bring your favorite tools and texture tools.
Fun Fridays PDF for you to print and share: FUN FRIDAYS
Please call (541) 338-7654 or (866) 234-2529 to register.
July 7th: Brushing Cone 6 Glazes & Combo Mambo - $40.00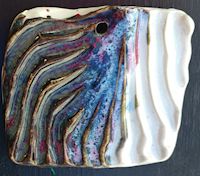 In this class students will learn how to properly brush on Cone 6 glazes and how to layer glazes fro unique effects. This is a class for individuals who always wanted to learn the skill of brushing glazes. Once the brushing technique is mastered, you will be amazed at the magnificent results!
SUE209 ~ 10am-1pm ... 6 spots available
July 14th: Using Interactive Pigments - $50.00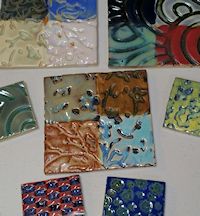 Come play with Georgies Interactive Pigments! You will be provided with eight G-Mix 6 texturerd tiles, our line of Interactive Pigments, and additional glazes to experiment with on the tiles. Class includes all supplies and firing.
SUE210 ~ 10am-1pm ... 6 spots available
July 21st: Chocolate Vases with Trillium Inlay - $40.00
Add some contrast to your pifes by using both Trail Mix Chocolate and Trillium Porcelain clays in one piece. This is trickier than it looks, but it is a ton of fun! Class fee includes all of the clay, glaze, and bisque firing.
SUE211 ~ 10am-1pm ... 6 spots available
July 28th: Majolica - $40.00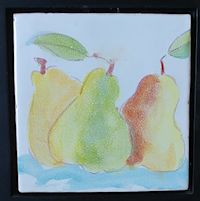 Experiment with Majolica using Duncan EZ Strokes, Downright White Glaze and Low Fire Red Quarry Tiles. Come prepared with some ideas to paint on your tiles. Class fee includes all supplies and firing.
SUE212 ~ 10am-1pm ... 6 spots available
August 4th: Rice Paper Transfer Sheets - $35.00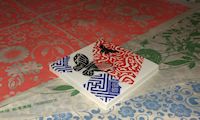 Rice paper transfer sheets are a fun and easy way to add color and decoration to both thrown and hand built ware. Try them with us using Low Fire Greenware Tiles. Class fee includes all supplies and firing.
SUE213 ~ 10am-Noon ... 6 spots available
August 11th: Trail Mix Color Blocks - $35.00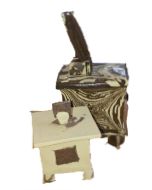 Come learn how to make clay color blocks using Georgies Trail Mix clay. Once formed, these blocks can be used to hand build mugs, plates, boxes, and anything else you can imagine. Come try it out! Class fee includes all supplies. Firing in NOT included.
SUE214 ~ 10am-Noon ... 6 spots available
August 18th: Using Darts to Alter Shapes - $35.00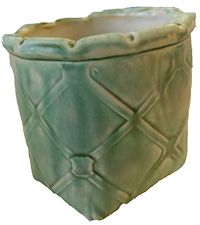 Students will learn how to make various different darts in cylindrical forms to alter their shape. With this technique, a simple cylinder can be changed into a shapely mug, pitcher, or sculptural form. Come try darting with us!
SUE215~ 10am-Noon ... 6 spots available
---
THE FINE PRINT FOR EIGHT-WEEK CLAY CLASSES:
At the time of registration for our clay classes we request a $25 deposit and a credit card number to hold your reservation. The $25 deposit will not be refunded if you cancel your registration, but will be applied when you pay the rest of your class fee ($25 + $225 = $250).

You will get a registration confirmation in the mail. We normally bill your class fee to your credit card number two days before the first classsession. If you choose to pay by cash or check, please arrive before5:00 pm on the first class day so we can complete your invoice. Call oremail us as soon as possible if you have to cancel your registration.We have waiting lists for many of our classes, and your early callallows someone else to attend.

The fee for our clay classes includes Georgies classroom clay, use of Georgies glazes on your work, studio time to practice between class sessions (when there is not another class using the studio space), and firing your classroom work. Other clays and glazes are not included in the class fee. You'll have to purchase those on your own if you wish to use them. Cone 06 lowfire clays are strictly not allowed in our classroom area.